Our Lab Facilities
---
The mHealth lab is co-located in a beautiful space in 177 Huntington Avenue, at the edge of the Northeastern University campus closest to the heart of downtown Boston. The space includes our offices and the human-computer interaction lab. We are a short walk from Northeastern's West Village H building, which houses the College of Computer and Information Science and Northeastern's Behrakis building, which is the home base for the Bouve College of Health Sciences and houses the exercise physiology lab and the medical simulation center.
The mHealth Laboratory supports the development of mobile health technologies. It is equipped with a suite of mobile phones and facilities for testing mobile phones and miniature sensors, including electronic shaker equipment, a variety of motion measurement devices (e.g., Actigraphs), tablet computers, consumer electronic fitness measurement devices (e.g., pedometers, scales), and an Oxycon Mobile portable calorimeter system. The lab also houses sets of custom-designed and built miniature mobile sensors for the body and the home that are used in ubiquitous computing prototyping and experimentation.
The HCI lab supports the development and evaluation of advanced human computer interface technologies. The laboratory includes rooms used for interviewing, observing human subjects, and testing in-home and mobile sensor technologies – in addition to space for software development computers. Other computers are specially equipped for video capture, review, and editing; 3D modeling; and animation work. The lab has a range of display devices for experimentation including a 50" plasma screen. We are constructing a mock living room that can be used for rapid prototyping and testing of home and wearable-based persuasive sensor systems, as well as virtual links between the home and other environments.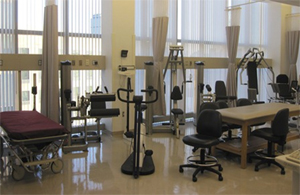 The mHealth group also has access to the Bouve exercise physiology lab, which can be used to test physical activity sensor systems. This lab has cardiopulmonary function and aerobic assessment equipment, body composition measurement devices, anaerobic power assessment equipment, skeletal muscle strength and endurance analysis equipment, and energy expenditure assessment equipment (including portable).
We share the space in 177 Huntington with many colleagues from Northeastern doing interdisciplinary work in health, HCI, and network science.