Northeastern UniversityA Leader in Personal Health Informatics
---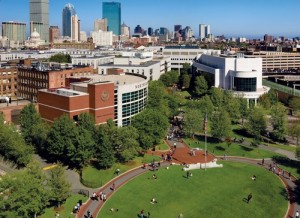 The promotional materials for Northeastern University state that it is a "University on the Move," and it is! It's on an exciting trajectory of growth and innovation and making a major investment in interdisciplinary health research and innovative degree programs in health informatics and personal health informatics. Northeastern has identified health as one of three major strategic initiatives with ongoing hiring in Health Systems, Health Policy, Health and Administration, and Game Design (with health emphasis). The University is a leader in interdisciplinary research, urban engagement, experiential learning, and the integration of classroom learning with real-world experience. For an overview of the University's dramatic rise in rankings and reputation, read Northeastern 2012: By Any Measure, a University on the Move, or the updated 2013 version, "No Limits."
[br]
Founded in 1898, Northeastern University has an enrollment of more than 26,000 undergraduate and graduate students and approximately 4,300 faculty and staff. It is one of the nation's most dynamic private educational institutions. There are eight undergraduate colleges, eight graduate and professional schools and two undergraduate evening divisions. Northeastern University is recognized as one of the top universities in the nation for practice-oriented education as ranked by U.S. News and World Report in August 2007 and has risen rapidly in the rankings of top 100 research universities in the last few years (to #49 in 2014).
The mHealth group is a part of the College of Computer and Information Science (CCIS) and the The Bouvé College of Health Sciences (Bouvé). For some information on CCIS, watch the CCIS Faculty Voices video. The I am Bouvé and the Behrakis Tour are good videos on Bouvé. The PHI Ph.D. web pages have more information as well.
Why mHealth at Northeastern?
The mhealth group takes advantage of some of Northeastern's strengths:
Major health and wellness efforts at Northeastern
Health is one of three areas of strategic focus at Northeastern. On campus, there are other complimentary efforts in the health domain that address topics with ties to mHealth, including the Center for Health Policy and Healthcare Research, the Health Policy and Law Program, the Institute on Urban Health Research, the Dietary Assessment Center, the Center for Population Health and Health Disparities, the Affective Science Institute, the Center for Community Health Education Research and Service, the Center for Networks and Complex Systems, the NSF Center for Health Organization Transformation, and the Creative Industries Program in Game Design and Interactive Media. Northeastern is a member of the Tufts Clinical and Translational Science Institute and the Center for Integration of Medicine and Innovative Technology (CIMIT). Northeastern also has a strong program in entrepreneurship, with the High-Tech MBA, and overall the University has many programs that foster entrepreneurship in health (see a nice video on the Health Science Entrepreneurs Program).